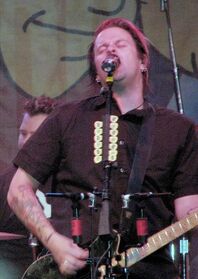 Jaret Ray Reddick (born March 6, 1972) is an American singer-songwriter, musician, composer, and voice actor, best known as the lead vocalist, rhythm guitarist, and primary songwriter for the Grammy Award-nominated pop punk band Bowling for Soup. He plays a Music Man Axis that has a flag of Texas design on it.
Background
Edit
Jaret Ray Reddick was born in Grapevine, Texas. He is the youngest of six children, with four sisters and a brother (named Danny). He went to Cunningham Elementary School, Wichita Falls, Texas. He graduated from S.H. Rider High School in Wichita Falls. In high school, he played snare drum in the marching band. Jaret has degrees in business management and psychology from Midwestern State University in Wichita Falls.
Jaret loves games, which is the inspiration for the tattoo sleeve on his right arm, which includes such things as a Rubik's Cube, a Fisher-Price Chatter Telephone, jacks, Monopoly's Rich Uncle Pennybags, and Operation's Cavity Sam. The most recent addition is Mr. Potato Head.
He has owned a chain of toy stores and worked in real estate while attempting to get his music career off the ground. He is married to Melissa Reddick, and has two children, Emma and Jack, and resides in a small community outside of Denton, Texas.
Bowling for Soup
Edit
Bowling for Soup formed in 1994 in Wichita Falls, Texas. Their name derives from Bowling For Soup, a comedy routine by Steve Martin. Jaret is the songwriter for the band, penning such BFS hits as "Punk Rock 101", as well as playing rhythm guitar. He also likes Iron Maiden, with his favourite song being "Paschendale", inspired by his old history teacher Dave McGill.
Chuck E. Cheese

Edit
In 2012, Chuck E. Cheese's chose Jaret to be the new voice of their mascot, Chuck E. Cheese, as part of a revamp for the character. He replaces previous voice actor, Duncan Brannan, in the role. The commercials have garnered worldwide negative reception.